We focus on talent attraction and retention by developing and training our team members, supporting their wellbeing and maintaining a diverse and inclusive Company culture in which they can thrive.
7.5%
increase in salaried team members' pay in light of inflationary environment
£0.6m
total cost of living payment to team members
£5.6m
paid in bonus to centre teams in recognition of excellence
96.9%
Of our team completed online training and development modules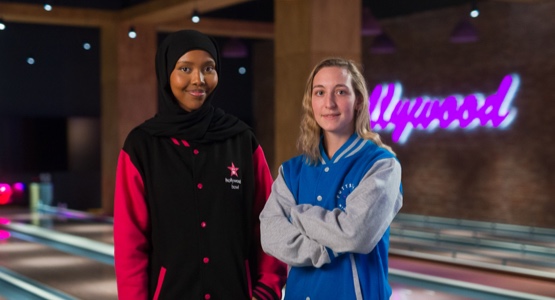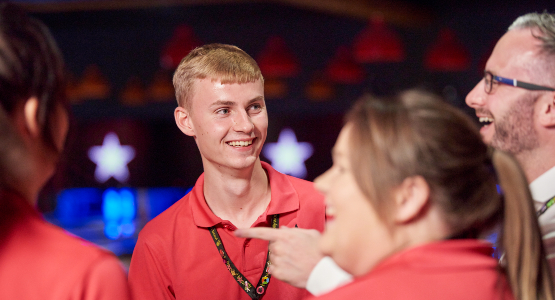 ---
Supports strategic objectives
Driving like-for-like revenue growth
Focusing on our people
---
Creating value for
Customers
People
Communities
Investors
---
Helps mitigate principal risks
Employee retention
Compliance
---
Contributing towards the SDGs
Talent attraction and retention
Our team members are the lifeblood of our business and key to our success. This is why we have worked doubly hard on our people initiatives this year, so we can continue to attract and retain the best talent available in a labour market that has become increasingly competitive. Recruiting and retaining good people continues to be a challenge for the leisure and entertainment sector – due to its transitional nature – but we are pleased to report that our turnover rates are proven to be substantially lower than many of our hospitality peers. During this reporting period, we have refreshed our renewed rewards package and improved employee engagement and talent programmes. Our new employer brand will launch early in FY2023.
Our people have been instrumental to our outstanding performance in FY2022, facing challenges head on, whether it was supplier or food delivery shortages, or working to support each other when Omicronrelated sickness absences were at their peak. We have recognised these efforts through pay increases and generous bonus schemes. In addition we have provided a one-off cost of living payment to help team members totalling £0.6m.
Reward and recognition of our team members is an important part of our strategy to engage and retain great people. It's also an essential part of fostering a high-performance, purpose-led culture across the business. In addition to providing fair pay to all our team members, we also offer benefits such as free activities and discounted food and drink when they visit our centres with their friends and family.
Diversity and inclusion
We actively promote a culture that fosters inclusion, in outstanding workplaces that are both diverse and welcoming. Difference is valued, as it is a reflection of the people and communities where we live and work. We commit to no-one being discriminated against on the grounds of gender, race, ethnicity, religious belief, political affiliation, sexual orientation, age or disability. We encourage our team to celebrate all religious and cultural festivals equally.
Diversity and inclusion are critical to our success, and help us to reflect the expectations of our customers, while providing customer experiences that are relevant, accessible and welcoming. We have identified focus areas to improve and are making changes to the way we recruit to attract ever greater diversity and more women, and to ensure that our centres are reflective of the diversity of their own communities. We are also encouraging wider gender diversity into senior roles, and we are acting on the issues that prevent team members from applying for promotions. As a result, we've taken steps to embed more flexibility in the structure of senior roles.
In addition, we've continued to develop our employer branding, and our website is now designed to reach, and appeal to a broad range of potential talent.
40%
longer term target for female representation on the Board
Training and development
Working at Hollywood Bowl Group is more than 'just a job' – it is a high-performance culture, where teams are nurtured through exceptional training and reward schemes where positive behaviours are actively encouraged.
Our teams have entered FY2023 stronger than ever, on the back of industry leading talent development programmes that were reintroduced post the COVID-19 lockdowns. We now have well over 100 team members enrolled, with 40 per cent of all management vacancies filled from our internal talent pipeline. We value this experience as team members progress through the Group, while also maintaining a healthy balance of new recruits from outside the Company.
We have expanded these programmes, introducing talent programmes for our technicians and Contact Centre team for the first time. In total, 25 new candidates joined our Centre Manager in Training programme and 75 candidates joined our Assistant Centre Manager in Training programme.
We recognise and embrace our role in enabling team members to develop their skills, whether they are entering or returning to the workplace on a temporary or transitional basis or motivated to develop a fulfilling a career that allows them to rise up the ranks.
40%
of management vacancies were filled internally during FY2022
Team wellbeing
The wellbeing of all teams is of vital importance to us, and we have a range of established initiatives in place to make this happen. The importance of wellbeing was highlighted in our recent annual conference where we held a workshop and all our talent programmes now include wellbeing modules. We now have three Mental Health First Aiders, and are training up two more, and we have regular communications around mental health and wellbeing on Fourth Engage (our internal social media) to highlight events such as World Mental Health Day.
We enhanced our Employee Assistance Programme (EAP) in FY2022, moving provider in May to PAM Assist, which provides a free support service for mental health, financial, legal or bereavement issues. A team member can call directly, or we can make a referral. In addition to this, an app can be downloaded, which provides information and ideas around wellbeing, with regular news articles, recipes, workouts, guided meditations, health assessments, information on cognitive therapies, and much more.
4.9
out of 7 – the average score for wellbeing in our team engagement survey