Our business model delivers value through continual investment in enhancing our customers' experience
What sets us apart
---
Successful brands
We operate a portfolio of bowling and mini-golf centres across the UK and Canada, under our Hollywood Bowl, Puttstars and Splitsville brands.
---
High-quality estate
Our centres are predominantly in prime locations, in out of town multi-use leisure and retail parks, alongside cinema and casual dining sites.
---
Motivated and engaged teams
Our teams are the face of our business and are focused on delivering the best brand experience for our customers.
---
Landlord relationships
Excellent relationships with developers and landlords ensure that we maintain a strong pipeline of potential new high-quality sites.
---
Strong balance sheet
By driving revenues, continuing to achieve healthy margins and maintaining a strong balance sheet with low net debt, we are able to invest appropriately in all areas of our business and create value for our stakeholders.
What we do
Our centres offer a complete entertainment experience for customers of all ages. Alongside our core offer of bowling or mini-golf, they can also enjoy amusements and food and drink which enhances their visit and also increases reasons to visit, dwell time and secondary spend.
Multiple revenue streams
Bowling
Mini-golf
Amusements
Food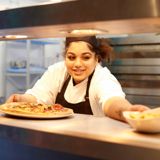 Beverages
Where we invest
---
Customer experience
Safe and secure environments
Technology to enhance the wider customer journey
Centre maintenance and upgrades
Centre refurbishments and reconfigurations
Customer insight programme
---
Growth
New centre developments
Broadening the appeal to new and existing customers through marketing programmes and environment upgrades
Acquisitions
UK and international market expansion
---
People
Attracting and retaining the best people in the leisure industry
A fair deal for our team members with comprehensive bonus and incentive schemes
Extensive training and development
Team engagement and wellbeing programmes
Value creation
---
Our customers
We strive to deliver exceptional service, in unique, contemporary, safe and exciting environments at a highly accessible price point.
---
Our people
Our team members are highly focused on commercial and satisfaction measures to ensure our customers enjoy the best possible experience. Management programmes are in place to attract, retain and nurture top talent.
---
Our partners
We support a wide ecosystem of partners and suppliers through commercial arrangements designed to build mutually beneficial long-term relationships.
---
Our communities
The inclusive nature of bowling and mini-golf makes them an important contributor to social wellbeing. We offer subsidised access for concessionary users and educational groups.
---
Our investors
We are focused on sustainable, profitable growth by driving revenues and managing our margins and cash position to provide attractive returns.
Our ESG strategy
---
1 - Safe and inclusive leisure destinations
2 - Outstanding workplaces